Win a Minibus!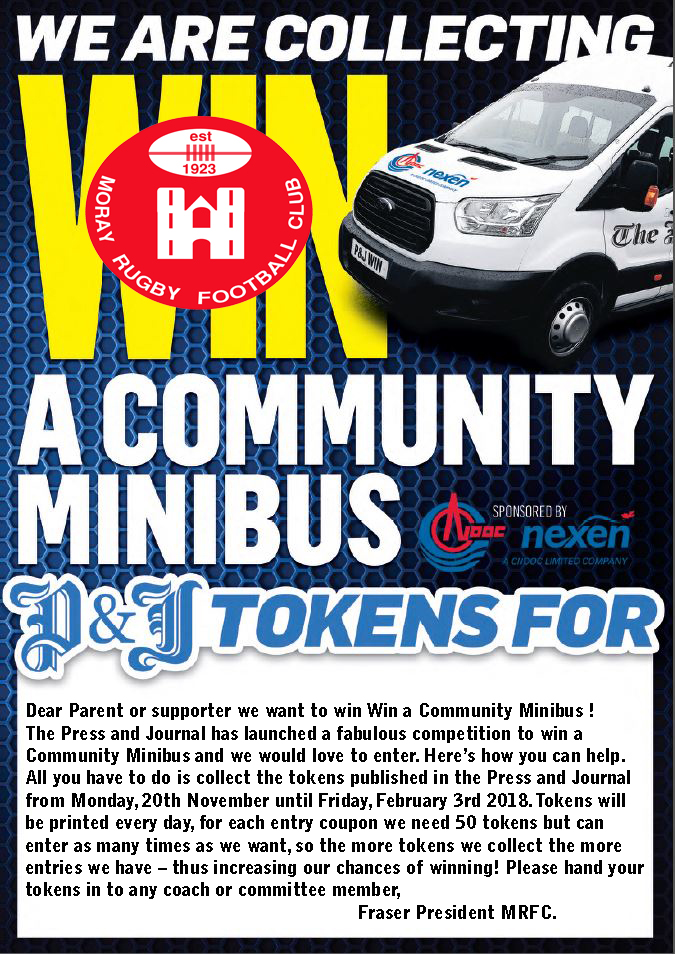 Easy Fundraising

SUMMER 2013 RUGBY CAMPS
Wed 3rd Jul 2013
Hi All – please find enclosed summer rugby camps in the area if any of your players wish to attend. I am also delighted to say that Glasgow Warriors will send 2 players to assist in coaching the kids on Thursday 8 August so can we all help get a good turn-out down at the club.

:: More Information

MORAY MICRO FESTIVAL - 26/05/13
Mon 27th May 2013

After a hot summer's day on Saturday, the cooler breeze and temperatures were a welcome relief, for the Micro (P1-3) boys and girls who came together for their own festival at Morriston Playing Fields last Sunday.

:: More Information

FUN AT THE FESTIVAL - NAIRN 05/05/13
Tue 7th May 2013
The Nairn Invitational is always enjoyable. Usually the last event on the fixture calendar and with rugby, tug o' war and 'big mouth' passing task, the variety brings something different to a festival day.

:: More Information

MICRO/MINIS BASIC CORE SKILLS CURRICULUM?
Tue 30th Oct 2012
In an attempt to simplify the LTPD core skills assessment form, to something that we can agree on, and aim to achieve, I have drafted up an initial skills list to which we could work towards, for players moving up a group.

:: More Information

JOINT TRAINING AT HIGHLAND 20/11/11 by Phil Kelly
Mon 21st Nov 2011
After the scheduled Lochaber festival was cancelled, a hastily rearranged alternative was planned, which saw Moray P4/5 & P6/7 come together with Highland & and Ross Sutherland to training together in Inverness.

:: More Information

PARENTS SUPPORT GROUP by Phil Kelly
Fri 26th Aug 2011
At the Parents' Meeting, in the cluhouse on Sunday 11th Sep at 11:30, Phil will be asking for help from Parents to do some small tasks to help the teams.

They are; Secretary, Travel Co-ordinator and Kit Co-ordinator.

Volunteers have already come forward to offer help with the Catering and Treasurer roles.

Please consider helping, to make this season successful for the Micro/Minis.

If you are willing and able to help, please contact Phil Kelly.

A support meeting will be held during wc 18th Sep, to develop the group.


CAITHNESS FESTIVAL REPORT - 3RD APRIL 2011
Mon 11th Apr 2011

A 6am start with cool temperatures, sunshine and showers the Moray Minis set off on their coach trip to Caithness. They arrived at Wick in good time to relax at the venue, and to stay dry, before venturing out onto the pitches.

:: More Information

CLUB SHIRTS
Fri 18th Feb 2011
Club shirts – if a player borrows a club shirt at any point during the season, please return it ASAP for laundering, so that we can maintain stocks/sizes for all players!

After a recent audit we appear to only have 65% of the shirts that we started the season with!!


FESTIVE FUN!
Wed 5th Jan 2011

Well, Christmas time again, and with no training in weeks the P6/7 guys took the opportunity for a brief run out so that they didn't forget what Sunday mornings are meant to be all about!

:: More Information

PITTODRIE TRIP - SCOTLAND V SAMOA
Wed 5th Jan 2011
What a day!! The weather didn't defeat the Micro/Mini's Autumn International trip to Aberdeen, although as the snow came down first thing on the Saturday morning, we did wonder if we'd get through!!

:: More Information

JOINT TRAINING REPORT - HUNTLY AT MORRISTON, 24TH OCT 2010 by Phil Kelly / Emma Dobbs / Nigel Tiddy
Tue 26th Oct 2010
This was the first time, we have hosted such an event, and it proved to be a great success! 'An excellent mornings training with Huntly minis and micros. The weather was kind to us and it was great to see the Moray and Huntly players working hard at all the drills together.

:: More Information

Caledonia 2 North
Ellon
13
55
Garioch
14
53
Moray
13
50
Mackie Academy FP
12
41
Highland 2nd XV
13
40
RAF Lossiemouth
13
35
Ross Sutherland
12
30
Aberdeen Uni Medics
11
20
Shetland
11
20
Ab'deen Gram 2XV
12
18
Deeside
13
11
Stornoway
9
0
Last 1st XV Game
1st XV Season (2017/18)
Moray 71 - 0 Aberdeen Uni Medics
17th Feb 18 - KO: 15:00
Venue: Morriston
Next 1st XV Game
1st XV Season (2017/18)
Highland 2nd XV vs Moray
3rd Mar 18 - KO: 15:00
Venue: Canal Park
:: More Fixtures
Caledonia 3 North
Kinloss Eagles
12
49
North Police
11
49
Ab'deenshire 2nd XV
13
48
Inverness CD
11
40
Gordonians 2nd Xv
13
37
Aberdeen Uni
10
36
Peterhead
10
31
Huntly
10
28
Ab'deen Wdrs 2nd Xv
11
19
Moray 2nd XV
13
11
Fraserburgh
14
7
Dyce
14
0
Last 2nd XV Game
2nd XV Season (2017/18)
Moray 2nd XV 18 - 31 Kinloss Eagles
17th Feb 18 - KO: 15:00
Venue: Morriston
Next 2nd XV Game
Season (2017/18)
Ab'deen Wanderers 2nd XV vs Moray 2nd Xv
3rd Mar 18 - KO: 15:00
Venue: Groats Road
:: More Fixtures